Utah Custom Faux Beams
Top-Quality Box Wood Beams For Your Home In Utah
Woodland Beam is a five-star company creating box wooden beams that will add a unique appearance to any home or business. Boasting a light weight and longevity unmatched by regular wood, our faux beams are the perfect addition for your home.
Affordable & Durable Decorative Wood Beams
Routed Edge Alder Box Beams
Try one of our $30 alder box beam samples to see the beautiful ambiance it can bring to any room.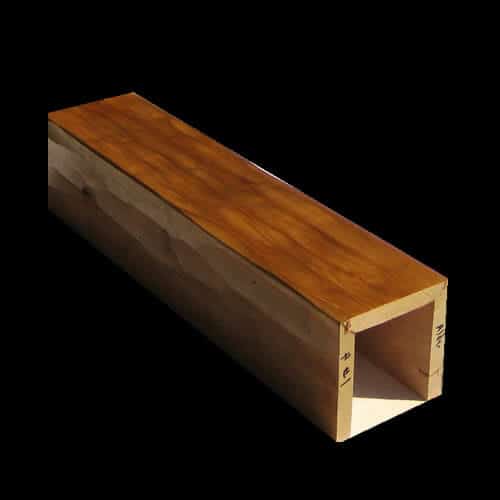 Hewn Style Alder Beams
These Spanish style beam samples priced at $30 apiece bring a warmth and luster to every home.
Reclaimed Style Cedar Box Beams
For a strong, impressive addition to your living space, bring one of our $30 sample beams home.
Barnwood Beams
Priced at $30 per sample, our barnwood beams look almost identical to real aged, weathered barnwood.
Hewn Style Cedar Box Beams
View our $30 sample beams that bring a robust texture and depth to any area of your home.
Routed Edge Cedar Beams
With smooth, rounded corners and appealing texture, our routed edge cedar samples are available for $30 per piece.
Premium Faux Beams In Utah
We Craft & Remodel Any Type Of Ceiling Beam
Carefully Crafted Beams From Real Wood
Crafted with small amounts of 1 inch stock, your faux beams are guaranteed to last many years.
Indistinguishible From Traditional Beams
No matter the size, our beams are carefully designed to be virtually indistinguishable from traditional solid timbers.
Far Lighter Than Normal Beams
Our lightweight faux beams are designed to replicate conventional wooden beams, with the ability to be placed in weight-restrictive areas.
Our Faux Beams Can Be Added To Any Structure
Versatility is key with our products at Woodland Beams. Our models can be installed in areas conventional beams cannot.
100% Handcrafted Faux Beams
Our team of builders are committed to turning out high-quality work with each handcrafted faux beam.
Faux Beams Custom Made To Any Size
Woodland Beam has the ability to create faux beams of any size, designed to fit your unique space perfectly.
I've worked with the principal of Woodland Beam for almost ten years. Every job has been a great experience. Woodland Beam strives very hard to produce a quality product and I've found it to be very true in my experience. Great people and a great product. I would strongly recommend using them for any beam/framing/mantle needs.
Steve G. ★★★★★
Really cool wood beam company. Wife wanted ceiling beams for our remodel, but I was terrified about sagging trusses, broken roofs, you hear stories. Mike does Box Beams really well, high end product, when it is installed you totally can't tell its a box beam, at all, does not even have like visible joints, great work
Jeff S. ★★★★★
Woodland Beam is who I would recommend to anyone looking to do projects using real, top quality wood beams – cedar, alder, etc. They also have great box wood products and have excellent materials for mantles and other like projects. Woodland provides top-notch customer service and they do stellar work.
Andrew N. ★★★★★
Get Your Unique Ceiling Beam Today