Handcrafted Box Beams Made From Real Wood Near You
Renovation, Design, Installation & Custom Beam Manufacturing
Woodland Custom Beam Company specializes in crafting custom faux wood beams in Provo. From the initial design and manufacturing process to the final installation, our experienced contractors work diligently to create exact replicas of conventional wooden beams so you can get all the beauty of real wood without the downsides. If you would like to bring a few samples home or are curious about our prices, contact Woodland Custom Beam Company today!
Upgrade Your Provo Home With Quality Faux Ceiling Beams
Fully Customizable & Lightweight Wood Box Beams
Easy To Install Barn Wood Beams & Mantles
Our Provo faux barnwood beams and mantles are impressively lightweight and easy to install in your home.

Custom Alder Wood Ceiling Beams Made Any Size Imaginable
We can create custom faux alder wood ceiling beams in Provo to your exact specifications and requirements.
Realistic Alder Faux Ceiling Beams
Get all the luster and warmth of a real alder wood beam without the difficulty when you choose Woodland Beam.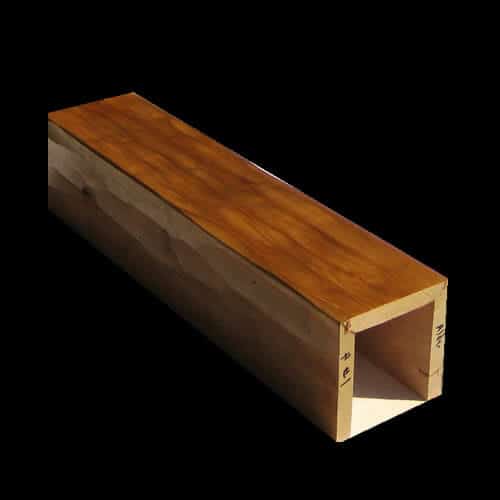 Lightweight Alder Beams For Home Remodels
Spruce up your new remodel with a lightweight, faux alder beam designed to be an exact replica of real wood.
Reclaimed Style Alder Beams With Easy Installations
Our Provo faux wood beams are ideal for home remodels and any tight space due to their versatility in installation.
Provo's #1 Choice For Cedar Box Beams
Woodland Custom Beam Company is the #1 choice for anyone seeking a moisture resistant, crack resistant cedar box beam.
Reclaimed Style Cedar Box Beams Resistant To Cracking
Each of our Provo faux cedar box beams are crafted using pieces of real wood for authenticity and unique beauty.
Long-lasting & Moisture Resistant Box Beams Made Of Real Cedar
Faux wooden beams are naturally resistant to moisture absorption and cracking, with easy installation in any space.
Conventional Wood & Box Wood Beams For Sale Near Provo
Faux beams and conventional wooden beams are designed to be exact replicas of each other, but are vastly different in terms of versatility and function. As a five-star Provo custom beam manufacturing company, Woodland Custom Beam Company locally manufactures faux beams using small pieces of real wood for authenticity. Each is highly resistant to moisture absorption, protected against warping, cracking, and the need for replacement.
Conventional wooden beams are incredibly beautiful, but because they are fully made with real wood, they are extremely heavy and limited in where they can be installed. Real wood is prone to absorption of moisture and humidity, leading to cracking, warping, twisting, and the need for replacement or professional attention every 5-10 years. Traditional beams can take longer to manufacture and install.
The most popular feature of our faux wooden beams at Woodland Custom Beam is their ease of installation. Because each beam is custom built to your exact specifications and requirements, they are impressively easy to install in virtually any space. They are lightweight and damage resistant, but give the impression and unique appearance of real wood. Contact Woodland Beam today for a price quote!
View Our Custom-Made Faux Beam Gallery
Frequently Asked Questions About Our Box Wood Beams
Request a Quote
For Expert Answers To Your Beam Questions & Price Estimates