Gilbert's Leading Handcrafted Wood Box Beams Dealers
Complete Solutions For Custom Beam Design, Installation, Renovation, & Manufacturing
Wood beams add a rustic or majestic feel to any room whether they are on the ceiling, used as a support beam, used as a mantle, or used as beautiful decorative accents. Maybe you're ready to add beams to your home or you need to replace an old beam with something identical. No matter the situation, Woodland Custom Beam Company has a solution for you. We carefully craft our beams here in Arizona and have perfected the art. Being box beams, our beams are hollow inside. Most box beams are made from synthetic materials poured into a mold, but our beams are made from 100% real wood perfectly seamed together. Because of this, our beams can have the genuine uniqueness of wood while being much lighter and more durable than other options allowing them to last longer than traditional beams. Trust our leading Gilbert box beam company for your beam solutions!
Improve Your Indoor Spaces With Our 5-Star Rated Faux Ceiling Beams
Custom-Made Wood Box Beams For Every Space
Easy To Install Barn Wood Beams & Mantles
Our box beams are simple to install due to their lightweight and durable nature and will last longer than traditional beams while being just as sturdy.

Customizable Alder Wood Ceiling Beams To Perfectly Suit Your Space
All of our Alder wood ceiling beams are customizable and are carefully crafted to fit any space perfectly. Additionally, we can customize their look matching them to current beams!
Durable & Built-To-Last Alder Faux Ceiling Beams
If you're looking for a ceiling beam made from wood, but built-to-last, consider your Gilbert beam company's faux ceiling beams made from real Alder wood.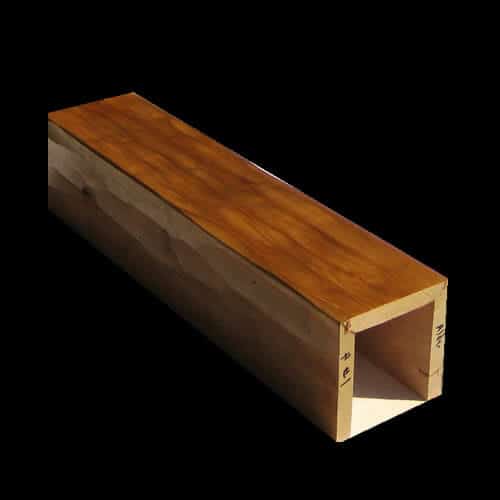 Long-Lasting & Lightweight Alder Beams For Home Renovations
Traditional beams are heavy and tend to warp due to excess moisture, but with box beams from Woodland Custom Beam Company, you can expect lightweight beams that will last!
Reclaimed Style Alder Beams That Are Easy To Install & Maintain
The reclaimed style is popular which is why we offer a few different reclaimed style beams. Made from real wood perfectly seamed together, our beams are simple to install!
Professional Cedar Box Beam Dealers Near You
When you're in the market for a Gilbert box beam company, look no further! At Woodland Custom Beam Company, we offer a variety of quality beams near you!
Crack-Resistant Cedar Box Beams With Reclaimed Style
Because box beams are less dense than traditional beams, they hold less moisture which makes them more crack-resistant allowing them to last longer! Check out our many styles of box beams today!
Long-Lasting & Moisture-Resistant Box Beams Made Of Real Cedar
All of our box beams are made from real wood including lightweight cedar. Due to their construction by our skilled craftsmen, our beams boast moisture resistance and durability!
Why We're Gilbert's Preferred Custom Wood Beams Dealers
There are many things to consider when you are looking for custom wood beams. First, you must decide if you want to go with a traditional beam or a box beam. Box beams are a popular option due to their durability, lightweight nature, and warp-resistance. Traditional beams are heavy and because of their density, they tend to hold more moisture which dries up overtime causing cracks. That said, many people opt for traditional beams because they are made from real wood instead of synthetic, molded material. Woodland Custom Beam Company is your solution to the problem! Being both a durable and lightweight box beam while crafted from real wood, you get the best of both worlds! Not only that, but because our beams are made custom using boards, we are able to match the grain, size, length, and look of any beam you might currently have. Let us be your Gilbert beam company and call us for a quote!
We are confident that our Woodland Beams won't leave you disappointed. Our creator started this company wanting to look for a solution to the cracked and warped beams he was often replacing. From the day Woodland Beam Company was created, their box beams have been the perfect solution for Gilbert beam installs. Our customers are very important to us and we want to ensure a smooth and simple process from the moment you contact us to long after your beams are installed. With years of experience, and a trail of 5-star reviews across many platforms, it's no wonder why contractors all over Arizona recommend Woodland Custom Beam Company as their preferred and trusted beam dealer. We have been featured in Luxe Magazine as well as at the Phoenix Home and Garden Show. Trust us to lead you through the process of adding beautiful, durable, and long-lasting beams to your home or business.
Call us today for a free consultation and talk to our friendly customer service professionals. We want to figure out your vision and make a beam to match. Using real, quality wood crafted to fit together perfectly, you won't be disappointed!
Our Gilbert Box Beams Are Eco-Friendly From The Start
When you install box beams from Woodland Custom Beam Company, you can be sure that they are eco-friendly! From the start, traditional beams are dense and use a significant amount of wood from the tree. With our box beams, you still get real wood, but they are made from boards allowing for more efficient tree use! Not only that, but because our box beams are made from real wood and not synthetic material, they are naturally eco-friendly.
Discover Our Recent Projects With Faux Wood Beams
Frequently Asked Questions About Our Box Wood Beams
Get a Quote Today!
Contact Our Experienced Wood Box Beam Specialists